About the Series
Another Life is a Science Fiction series created by Aaron Martin which aired on Netflix. The show followed a group of astronauts crewing Earth's first faster-than-light spacecraft on a mission to find the origin of an alien artifact. There are ten episodes and stars a few well-known actors such as Katee Sackhoff (Battlestar Galactica), Samuel Anderson (Dr. Who), Selma Blair (Lost In Space), and Justin Chatwin (Shameless).
Why I watched this Series
I would bet I watched this series for the same reasons as most of you. It is Science Fiction starring Katee Sackhoff. Period. Did the trailers look good? Not really. The good news is the show looked like had a decent budget and special effects.
The Review
Story – 2.5 Stars
The root story is very cool. An alien ship land on Earth and created a tall crystal object. The object just seemingly does nothing other than sending a signal to a distant planet, Pi Canis Majoris. Katee Sackoff plays Niko Breckinridge, captain of the Salvare.
While the Salare is on its way to Pi Canis Majoris the scientists on Earth, led by Niko's Husband Erik Wallace (Justin Chatwin), try to communicate with the artifact.
In the beginning episodes, the Earth part of the story was dreadfully dull. The first few episodes I dreaded when the scene cut back to Earth. When you start to get to episode seven, "Living the Dream," the earth side story begins to take shape. Erik's interaction with the artifact is interesting, and we start to learn a bit about the Achaians.
Meanwhile, on the Salvare, the story feels like watching a car crash in slow motion. The writing is terrible. The characters, dialog, and interactions are B-Movie level quality, at best. Not a single person on the crew would pass a psychological exam or have participated in any military training. The writers of Another Life would have us believe Earths future military has degraded to the point that discipline, etiquette, and professionalism are entirely gone.
The Salvare story is so bad that I don't know what style of show Another Life is? It's almost like the writers wanted to write a Star Trek style show where the crew explores different worlds. Or like Stargate Universe where when they run out of water or air, there is a perfect place to find what they need.
Another Life started terribly. Episode 1 was some of the worst Sci-Fi I have ever seen. As the series goes on, it does get better, although not by much. Thankfully, episodes 9 (Heart and Soul) and 10 (Hello) were pretty good. Except for the fact, it ended on a cliffhanger and since there is no way this will get a second season, wasted 10 hours of our life.
Cast – 1.5 stars
Jonathan Clay Harris and Alyson Silverberg cast most episodes. If you look on IMDB, it seems Harris and Silverberg work together frequently, most notably on Jane the Virgin.
Overall Another Life was cast poorly. On-screen the cast was nearly unwatchable. Part of the problem was the writing. I don't think any actors could make lemonade out of those lemons.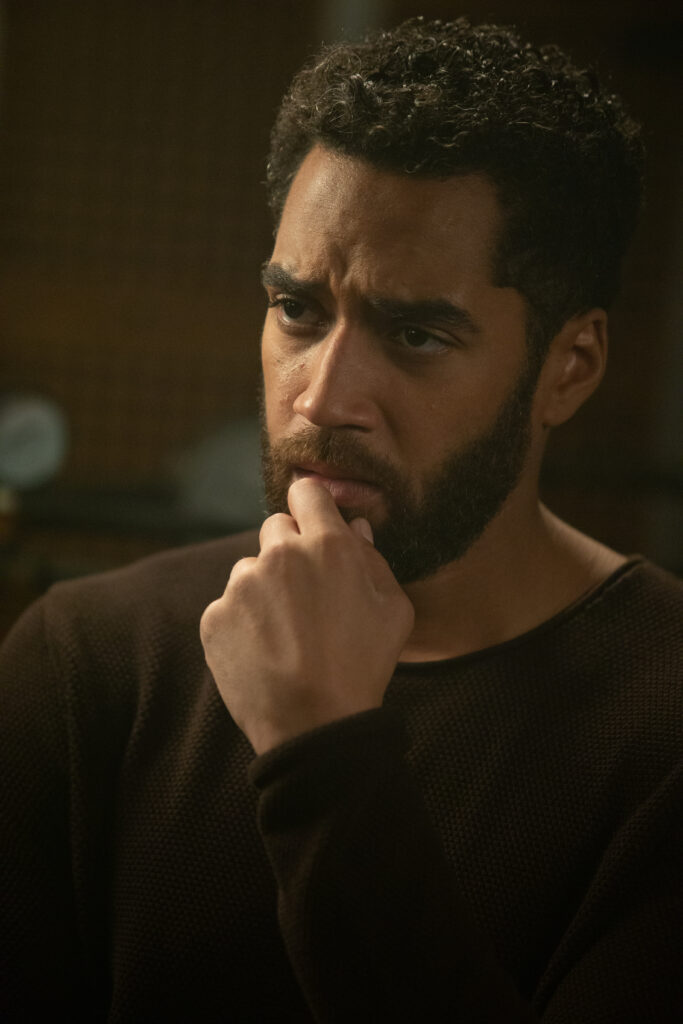 First, let's talk about the good. Samuel Anderson was brilliant as William. William was a complicated character who is learning and evolving emotions. Selma Blair did a nice job as Harper Glass. Harper had to transition from super-rich influencer to someone helpful to someone controlled by aliens. I also liked A.J. Rivera playing Bernie Martinez. Rivera played socially awkward perfectly and flirted with JayR Tinaco's character Zayne beautifully.
Now, moving on to the bad. It took Katee Sackhoff about 7 or 8 episodes to get Niko right. Although I'm a Katee Sackoff super-fan, this was not her character. In my opinion, Sackhoff should have played a Marine Captain or some other role. Tyler Hoechlin should have been as Niko, or a new Captain character should have been created for Hoechlin. The show desperately needed a steady authority figure at the helm. Jessica Camansho played Michelle Vargas so annoyingly it was cringeworthy. If the Vargas character had been deleted entirely, the show would have been better.
It's hard to tell with everyone else if the issue was casting or writing. Either way, all the characters were nearly unwatchable.
Sets – 4 stars
I liked the sets. The interior of the Salvare looked like a spaceship. The Soma chambers were well done. Planets were basic but believable. I love the fact they used P90 machine guns although some laser guns would be cool.
Costumes – 1 star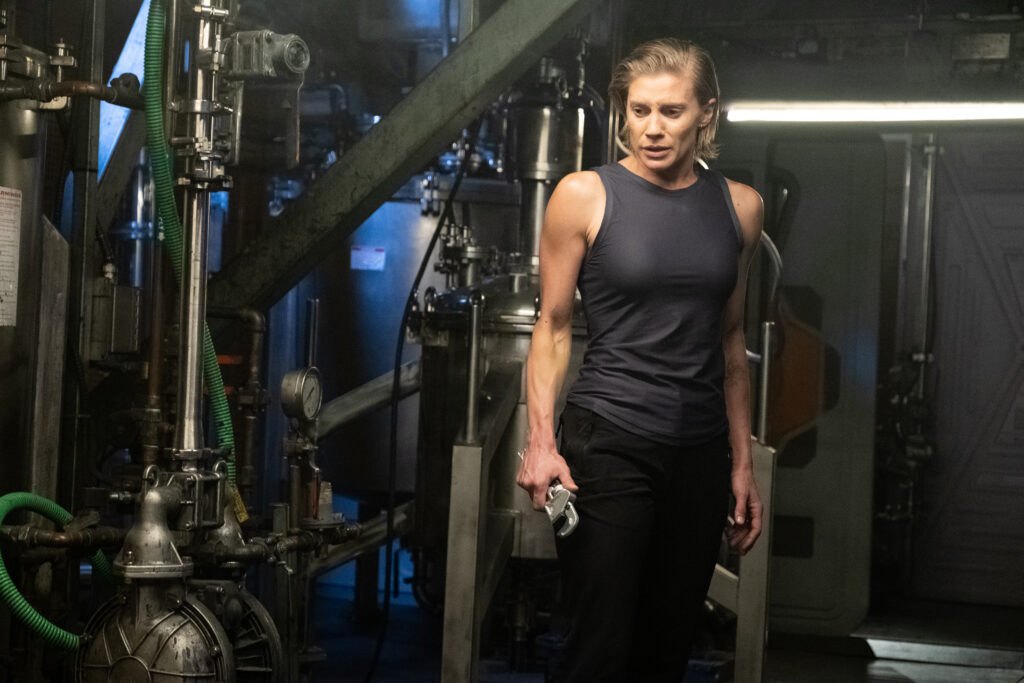 The costumes on Another Life were absolute garbage. Nichole Bouthot, Lorelei Burk, Nichole Guzzo, and Cathy Darby are listed at Costume and Wardrobe. The question is, is this another instance of the story having nothing to work with? Why didn't the Solvare crew have a uniform? Sometimes they would have a flight suit thing, and other times they were running around in workout clothes.
If someone wants to cosplay Another Life, they either have to wear their normal clothes, their pajamas, or their workout clothes. Whatever the problem was with the costumes, they were unremarkable.
Directing – 1 star
Another Life is dominated by unnecessary social interactions which didn't move the story forward or outright pointless episodes. The boron-based virus was a filler episode. Episode four "Guilt Trip" was also a filler. We could have learned about Niko's PTSD more elegantly and in less time. The drug-fuelled talk on the alien planet and the subsequent dance party should all be in the recycle bin.
Technology – 2.5 stars
Technology in Another Life isn't explained well. They do talk about their superweapon of building up particles on the bow of their warp drive and releasing it when they want to blow something up. There is some research by the University of Sydney which theorizes this phenomenon.
One area which upset the internet is the fact the crew goes to a rogue planet, and mine crystal said to contain high concentrations of oxygen. At first, I thought this was pure hand-wavy Sci-Fi. After a little research, I learned that researchers at the University of Denmark had invented a crystal which can hold large amounts of oxygen. If such a crystal could form naturally on an alien planet, then the crew wouldn't need very many of them to provide air for an extended time.
All in all, Another Life has mediocre use of well-known Science Fiction technology mixed in with a little near-future technology. None of the technology is explained in a way to satisfy the Science part of Science Fiction.
Originality – 4 Stars
Another Life didn't chart any new ground; however, it did use familiar Sci-Fi tropes to produce an original story. I applaud Aaron Martin for making a show created from scratch. Many new shows are optioned from books and comics or remakes of something original.
Conclusion
I can't imagine this show getting a season two. The critics on Rotten Tomatoes gave Another Life 6 out of 100. Six may be the lowest score I've ever seen. If by some miracle a second season is made I'll watch at least episode one so that I don't feel so unsatisfied but the ending of season one.
The Review
Review Breakdown
Story

Cast

Sets

Costumes

Directing

Technology

Originality