Disclosure: Some of the below are affiliate links, meaning, at no additional cost to you, I will make a commission if you click through and make a purchase
Buy the K'Terrian Affair Now – Greg Reviews Sci-Fi Amazon Affiliate store.
The K'Terrian Affair by Timothy Best is a love story set around a first contact story.  The story follows Alex Tucker who was abandoned by his mother at an early age. After a rough undercover mission with the FBI Alex decides to become the sheriff of a small tourist town called Dune Island.
On Dune Island, Alex falls in love with Eleanor Engle. Eleanor and her father are scientists at a military base located on Dune Island. Eleanor is smart and beautiful but has secrets that could affect the course of history. Is Alex and Eleanor's relationship the most dangerous or most important romance in human history?
Why I chose this book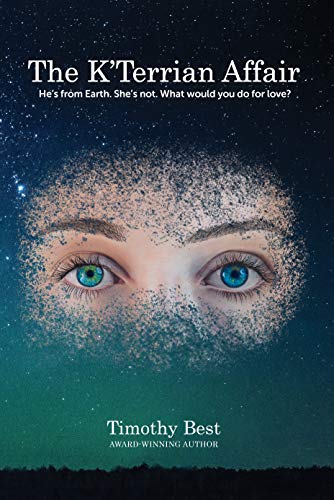 Timothy Best reached out and asked if I would read and review the K'Terrian Affair. I usually just read what I want, but a friend of mine referred Timothy, and I was in the mood for something a little different, so I said yes. Timothy did provide me the PDF for free, but at about chapter 2, I decided to buy the Kindle version. I wanted to give The K'Terrian Affair a proper spot in my library
I also bought a print version to use in my YouTube review, take photos, and give away to a lucky YouTube subscriber. So, in the case of The K'Terrian Affair, it was buy two, get one free! Ha!
Story
The story is the highlight of this book. The K'Terrian Affair is not filled with intricate world-building or deep technical science fiction. The story is a classic boy meets girl with a twist. Eleanor's specific situation adds complexity and drama to the story. The primary antagonist is largely unknown for most of the story. Towards the last quarter of the book, the story shifts from the relationship to more of the first contact Science Fiction story the description promised.
The ending was powerful and frustrating. I may have shed a tear. I don't want to spoil it, but Timothy Best wrote the only conclusion possible for this story. The K'Terrian Affair holds true to its name till the end.
Characters
The two main characters are Alex Tucker and Eleanor Engle. Alex gets most of the character development because we see a bit of his progression from boy to man. Alex is a bit predictable, but it makes him relatable.
Eleanor, on the other hand, is more complex. We get to see her take extraordinary measures to be with Alex. Along the way, she comes into conflict with her culture and ethics. Eleanor is the only one who understands the ramifications of her relationship with Alex.
There are other key characters in the book, including Alex's mom and Eleanor's dad. Both characters add depth as well as a bit of anxiety to the overall story.
Pace
The K'Terrian Affair had a decent pace overall. I did find myself wondering when we were going to get the alien stuff. The book does get into the love story at about 20%. At 50%, the reader gets a good sense of what's going on. Right about 70% is where most of the Science Fiction starts. My one complaint is there wasn't enough science fiction earlier in the story. It would have been good to see some private moments where some alien tech or abilities were on display. I always love it as a reader when I know something that the protagonist is going to learn.
Originality
The K'Terrian Affair is an original story with original characters. The alien/human love story trope and a first contact trope are well used in science fiction. Something that made The K'Terrian Affair more original than many books in this category is that it was presented as something modern-day and plausible. The dedication to realistic situations and believable outcomes gave the book a unique tone.
Technology
If you are looking for a book that explores technology, this isn't the book for you. The technology in this book isn't fantastical or break any new ground. There are a couple of interesting discussions about advanced technology, including starships, but we don't get to see very much of it.
Conclusion
I enjoyed The K'Terrian Affair. It was a nice change of pace from the typical space opera and military science fiction that I usually read. The love scenes were exciting without being overly graphic, and the personal situations seemed believable.
The ending was difficult to read. I'm sure it was challenging to write. It is a testament to Timothy Best's commitment to the story that he ended it in the way he did. Do I wish he would have ended it differently? Yes, but it would have only served my irrational need for a happy ending.
I absolutely recommend reading The K'Terrian Affair. If you are interested, the book is available in my Amazon Affiliate store here.
If you want to learn more about Timothy Best, you can check out his author page on Goodreads.
Thanks for reading!
The Review
Review Breakdown
Story

Characters

Pace

Originality

Technology