Disclosure: Some of the below are affiliate links, meaning, at no additional cost to you, I will make a commission if you click through and make a purchase
Resident Alien is about an Alien stranded on earth who assumes the identity of Dr. Harry Vanderspeigle. Harry has been hiding out at a remote cabin outside of Patience, Colorado waiting for his people to come to rescue him. Unfortunately, the town doctor gets murdered, and the Sheriff needs Harrys' help to solve the crime. While in town, the Mayor pressures Harry to fill in as the town doctor until he can hire a replacement. Luckily for everyone in Patience, Dr. Harry Vanderspeifel was bored and loves mysteries.
Resident Alien Omnibus Volume one collects the first three volumes of the comic book and was written by Peter Hogan.
If you what to buy this book – https://amzn.to/3tTgo83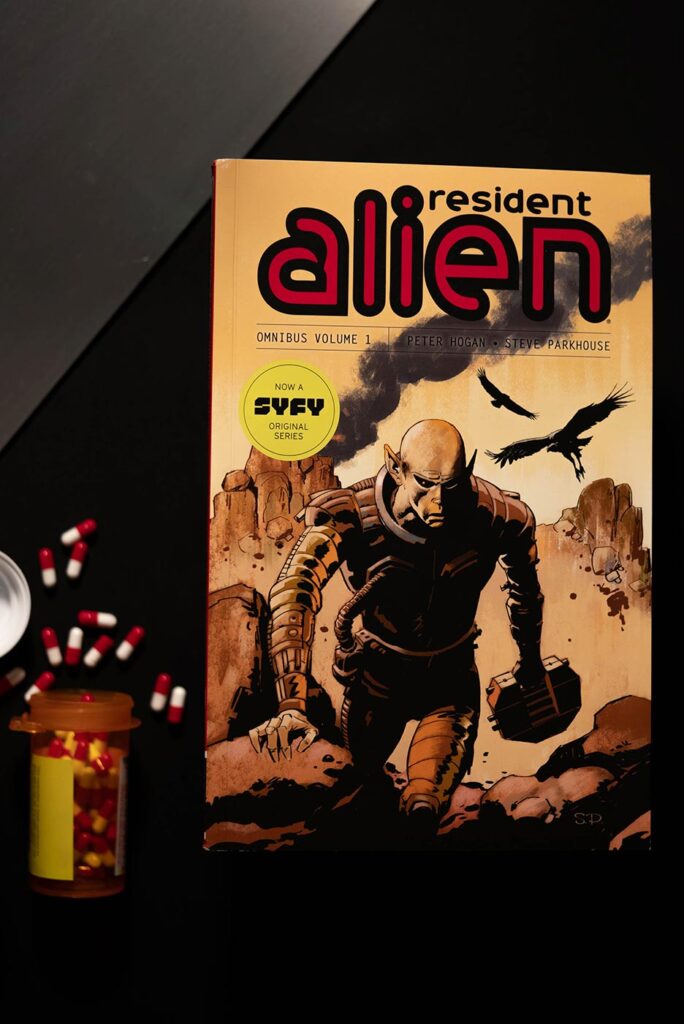 Why I chose this book
I chose Resident Alien because it was made into a TV show for the SYFY channel and starred Alan Tudyk. I had no idea this was a comic, but it looked interesting, so I thought I would give it a try. Besides, alien stranded on earth hiding in plain sight… how could I not read it.
Story
Resident Alien is a mystery. Essentially Harry gets caught up in some weird scenarios where he feels like he needs to investigate. Each volume is a story arc of an investigation. The mysteries are basic and easy to guess "Who did it." You don't read these comics for the mystery; you read them to see how Harry interacts with people. Within each volume, the reader also gets a glimpse of different parts of Harry's origin story. There is also a parallel story of the government finding Harry's ship and trying to find him. On the surface, this story seems basic, but it all works together to keep the reader engaged.
Characters
The main characters in the book are Dr. Harry Vanderspeigle and Asta Twelvetrees. Asta is a nurse at the clinic Harry works at, and they quickly become friends.
You get to know several characters in this book over time, such as the Sherrif, the Mayor, Asta's Father, and others from the town.
Most of the other characters are there in supporting roles to Harry and Asta. Hopefully, in later books, we get more stories of the people closest to Harry and Asta. Resident Alien is a character-driven story. How Harry interacts with humans and solves different personal and professional situations is why you read this book. It's also interesting how Asta and her dad react to Harry throughout the story.
Pace
Everything about the pace of Resident Alien is leisurely. Right when you start to get bored, you get a flashback or cuts to the government story. Harry's origin story also gets stretched out throughout all the volumes. It seemed to work but sometimes gave me Game of Thrones story whiplash. If this book has one weakness, it's the pace. You can read a couple of pages between your conference calls and not have any anxiety about it.
Originality
I don't know what to say in the originality department. Has anyone read a story about an alien stranded on earth who decided to be a small-town doctor and solve mysteries on the side? I sure haven't. There are evident tropes here, though. Alien stranded on earth, check. Alien posing as a human, check. Government hunting a stranded alien, check. The story, though, isn't like anything I've ever read, and that's what counts.
Technology
There is almost no alien technology in this book. Perhaps there is later on in the series. After all, these are just the first three volumes. Harry does have something that looks like a sonic screwdriver from Dr. Who, which he uses at various times in his origin story. You don't get to see much of Harry's ship or anything else. He also looks to have a spacesuit when he crashes, which is not super high tech. The purpose of this book is not flashy technology, though. I think if crazy technology were added to the story, it would have been out of place. Harry is trying to integrate into human society, and he can't be blasting everything he sees with a death ray.
Conclusion
I'm a comic book nerd. When comic books and science fiction crosses over, I love it. I'm not talking superhero-style science fiction. I'm talking novel-style science fiction. I also love superheroes, of course, but there is something about classic science fiction that is so rare in comic books.
I recommend this book to anyone who likes character-driven stories and mysteries. Resident Alien does have some humor, but it's dry humor and is not the story's primary entertainment device. If you are looking for stories with complex world-building or inventive alien tech, you might want to pass on it. I will most likely get the next omnibus and see if the drama increases for Harry. In these first three volumes, he has had it very easy for an Alien hiding out on earth.
If you what to buy this book – https://amzn.to/3tTgo83
Other Stuff
If you are watching Resident Alien on Syfy and you want to know what the differences are between the show and comic book you can check out our video on FanDummies
If you don't care about Resident Alien the Comic Book and you are only interested in the show you can check out our review of the SYFY show, Resident Alien staring Alan Tudyk.
If you want to chat with other folks about Resident Alien check out the Facebook group https://www.facebook.com/groups/residentalien
The Review
Review Breakdown
Story

Characters

Pace

Originality

Technology