Listen to the Podcast Episode
Outland is an Audible Original written by Dennis E. Taylor and performed by Ray Porter. The audiobook was published on May 16th, 2019 and is 10 hours and 30 minutes long.
Why I listened to this book.
As you may know by reading this blog or listening and watching my other channels, I'm a fan of Dennis E. Taylors Bobiverse trilogy. I have been anxiously waiting for another Bobiverse book like a kid on Christmas Eve.
Imagine my surprise when I received an email from Audible asking if I wanted to review Taylor's new book, Outland. In my head I was thinking "Heck Yes", but I want to read it, not listen to it. I've talked about how audiobooks were not for me a few times on Social Media. I read very fast and have a vivid imagination. When I read, characters come to life.
I've tried audiobooks in the past and struggled to get into the story. I will frequently zone out and think of other things and miss big chunks of the book. I feel like a narrator performing all the "roles" makes it hard to follow which character is taking. I also generally found the narrators way too slow speaking. For those reasons, I have avoided Audiobooks for the most part.
I didn't know what I was missing
I'm sure you see where this story is headed. I said yes to review the Audiobook for Audible. Honestly, it was a perfect scenario opportunity. Firstly, if Taylor wrote something new on a bathroom wall I would go try and read it. Second, it's my first request from Audible and it was a perfect fit in my genre. Win-win. Lastly, I had a long flight to Australia planned and was currently organizing my reading material.
I ended up listening to Outland in its entirety on the plane. I was hooked Immediately and could think of nothing else but to listen to this book until it was finished. I think my issue was the Audiobooks I had chosen in the past were just mediocre books, narrators or both,
Sigh, I now have an Audible subscription.
I enjoyed the experience so much that I signed up for Audible and purchased two books. One of which I have already finished and the other is not released yet. I still have a huge love of reading books on my Kindle but now I'm definitely going to be on the lookout for Audiobooks as well.
About the Audiobook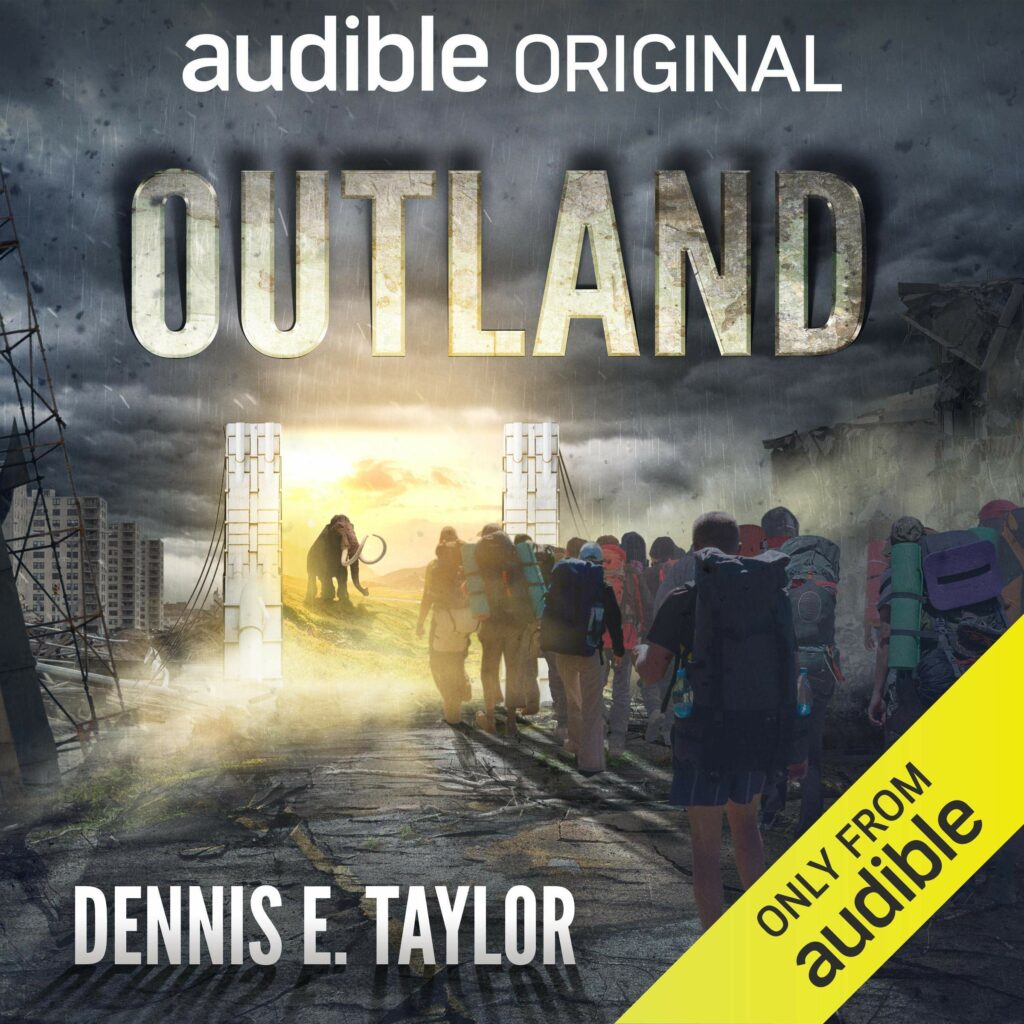 It was summer sessions at the University of Nebraska at Lincoln. A group of students comes together to build a device. Each person bringing needed skills to complete the project; Bill is an engineering prodigy, Matt is a computer software engineer, Richard is a physicist and leader of the group, and Kevin is the introvert genius physicist who figured out the math of the theory.
What is it they are building? Some sort of a portal. The destination of the portal is only a theory. Is it another world, is it the past, is it another dimension or universe? In order to answer these questions, the team decides to include Matt's girlfriend Erin, a geologist and her friend Monica, a Zoologist.
The team of six embark on a journey to secure their future in the world they have found. They soon find out mother nature has plans of her own. The team must shift from securing their own future to ensuring humanity has a future.
The Review
Story – 4.5 stars
The story is very well written. The best books have subplots while still signaling to the reader the main plot is still progressing. Taylor does an excellent job of keeping the reader interested while the primary, time-constrained plot, matures.
The story itself is fairly basic. I believe most people will be able to predict clearly the series of events about to take place. One of the charming things about this book is the age of the characters. They are mostly grad and doctoral student which makes them a bit older and able to cope with more stressful situations.
Taylor portrays the age of the characters well. They invent a possible world-changing technology and the best idea they can come up with using it is a get rich quick scheme. The pitfalls of their ideas any adult can see a mile away. At the same time, the story is clever and surprising.
The other fun part of this story is there are a ton of great references to different movies and tv shows including StarTrek, StarGate, and Sliders.
Characters – 4 Stars
The characters are well written and their personalities are very distinct. Dennis Taylor has a superpower for writing personalities. My only critique is the people and the roles were too perfect. It is almost like Taylor decided on the different aspects of the story arc and decided he needed a computer specialist, zoologist, and someone with money as a few examples.
The characters were believable but there should have been a little more struggle with surviving or getting the machine to work reliably. the team should have had to rely on someone or need someone which caused discord among the group.
Pace – 4 Stars
The pace was good. I think 10 hours is a great length for an Audiobook and Taylor used it well. There was no unnecessary dialog or strange plot diversions to make the book longer.
My only complaint is the news stories. I hate when news stories are in a book like narration. It's even worse when the characters are watching the news or reading the paper. Unfortunately all throughout the book, Taylor forces the listener to listen to news stories. The news is the primary method we (the listeners) stay up to date on the global disaster.
I think putting the news in books is just terrible writing. Towards the end the of the book the characters would have a discussion about current events which was much more enjoyable.
Originality – 4 Stars
Originality is a tough category for Outland. It is absolutely an original story when looked at as a whole. The tough part is the bits which make up the story are widely used.
The portal storyline is a concept we have seen in Terra Nova and Sliders, to a lesser extent Stargate and many books. The global disaster based on the Yellowstone caldera has been in many movies and books.
The good news is it doesn't detract from the story. There is enough new material in the mashup that it feels fresh and new.
Technology – 4 Stars
In the technology category, Outland fares very similar to originality. Nothing new invented however Taylor used well know science fiction technologies with elegance and expertise.
I do like how the team solved problems with simple ideas such as putting a camera on a stick or putting one end of the portal on the ground so nothing can come through. Many time authors will forget about the simple and go right to the complex. Taylor avoids that pitfall and writes the solutions how I would imagine them in real life.
Narrator – 4 Stars
This is the first time I've heard Ray Porter and I thoroughly enjoyed his Narration. It took me a few chapters to get used his female voices. At first, they sounded condescending and strange but as I kept going listening I realized he wanted to give each female a distinct sound without making them sound cartoony or childlike.
I think Porter did a good job. It's tough doing recording and voices and being consistent over days or weeks of recording. The book sounded good and I enjoyed it.
Conclusion
The whole experience of this Audiobook surprised me. Not only was the story great but the narration and pace was able to keep my interest over 10.5 hours. I was so into this book that I was annoyed when the flight attendants would bother me to give me snacks… AND I LOVE SNACKS.
If audiobooks is your thing you should definitely check out Outland. If you are like I was and not very interested in Audiobooks, Outland may be a good first book to true
Helpfull links
To buy Outland:
---
My review of Dennis E. Taylor Bobiverse: https://greg.reviews/bobiverse1
To buy Bobiverse:
---
Check out all Audible Science Fiction:
Audible Scifi
---
Special thanks to Audible for providing a copy of Outland for review.
---
Affiliates Disclaimer
**As an Amazon Associate I earn from qualifying purchases**
**When you click on links to various merchants on this site and make a purchase, this can result in this site earning a commission. Affiliate programs and affiliations include, but are not limited to, the eBay Partner Network**

The Review
Review Breakdown
Story

Characters

Pace

Originality

Technology

Narrator