Disclosure: Some of the below are affiliate links, meaning, at no additional cost to you, I will make a commission if you click through and make a purchase.
Listen to the Podcast
I always open my reviews with some externalization of why I consumed whatever it is I'm reviewing. My review of Stasis will be no exception.
I love low budget B-list Science Fiction. I imagine my audience to be like me, at least a little. Imagine you are sitting around the house, and it's awful out. In my hometime, it was a combination of rain and sleet turning to ice. No way was I going outside. Like, everyone, I start looking through both Netflix and Amazon Prime Video. I come across Stasis on Amazon for two bucks. I almost pull the trigger but decide first to browse Netflix and then decide. Under the trending section of Netflix, Statis. Sold.
If you look at reviews on Rotten Tomatoes (17%) or IMDB (3/10), you may get the impression this movie is terrible. When compared to large budget blockbusters three stars makes sense. I prefer to look at these types of movies for what they are, cheap entertainment.
The description of Stasis does the movie no justice. The premise of Stasis is the EXACT same as Netflix original Travelers. The consciousness of people in the future are downloaded into bodies in the past at the moment of Death. In the past, the "travelers" (HA!) have to stop a terrorist organization, called the Kabal, from destroying the world. If you loved the Travelers series, Stasis is must watch.
Here is my review of Travelers to jog your memory.
I gave Travelers five stars for originality however now I feel a bit duped. To let myself off the hook I'll just assume Stasis is a blatant copy of Travelers since Season One was on Netflix before Stasis was released.
The Stasis story does have a modicum of originality. If a future consciousness takes over a body before it's dead, the original consciousness is ejected from the body and roams around like a ghost. Sounds somewhat cheesy I know but it's not too bad.
The acting from Anna Harr (Ava/Seattle), Mark Grossman (Lancer), and Tiana Masaniai (Huntress) are the saving grace of the movie. Consider how hard it is to act when the sets and costumes are low budgets. Essentially, Huntress captures rebel consciousness buy tossing what looks like an electric box at their feet. The "device" collects the rebels ghostbusters style.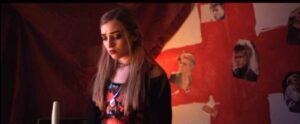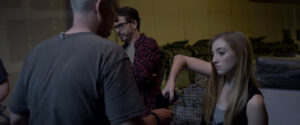 The standout performance is Anna Harr. Somehow Harr conveys Ava, a rebellious teen, so perfectly I felt sorry for her mom (played by Phyllis Spielman). At the same time, Harr plays Seattle, an adult badass from the future. Seattle's boyfriend in the movie is Lancer played by Mark Grossman. Just imagine how awkward it would be arriving in the past in a 15-year-old's body, and your boyfriend is Mark Grossman. Harr and Grossman nail the awkward sexual tension perfectly.
I had the privilege to chat with Anna Harr for a few minutes about Stasis. Anna told me this film was shot in only 12 days! Unbelievable. She also estimates three hours a day changing between Ava and Seattle costumes and makeup. I could tell she is very proud of her performance and the movie overall.
My recommendation is to gather a few friends, crack open a bottle of wine, rent Stasis on Amazon for two bucks. Enjoy the acting and have a spirited discussion of which team had the idea first, Travelers or Stasis.
Click here to watch Stasis on Amazon Prime Video.
Time to go back to the future and give this body back to its remnant,
Greg
Affiliates Disclaimers
**As an Amazon Associate I earn from qualifying purchases**
**When you click on links to various merchants on this site and make a purchase, this can result in this site earning a commission. Affiliate programs and affiliations include, but are not limited to, the eBay Partner Network**

The Review
Review Breakdown
Story

Cast

Sets

Costumes

Directing

Technology

Originality