Disclosure: Some of the below are affiliate links, meaning, at no additional cost to you, I will make a commission if you click through and make a purchase
About the book
The Forever War was written by Joe Haldeman. The book was originally serialized in 1972 in Analog Magazine. The book was later published in 1974 by St. Martin's Press.
In the forward, Haldeman walks us through the beginnings of how The Forever War was originally published. The first edition of the book had the middle removed, a novella titled 'You Can Never Go Back'. 'You Can Never Go Back' was eventually published in Amazing Science Fiction issue November 1975. After 16 years in print, Haldeman re-released the story as it was originally written. Hence, the book being reviewed today is the full story of The Forever Was as Joe Haldeman intended it to be read.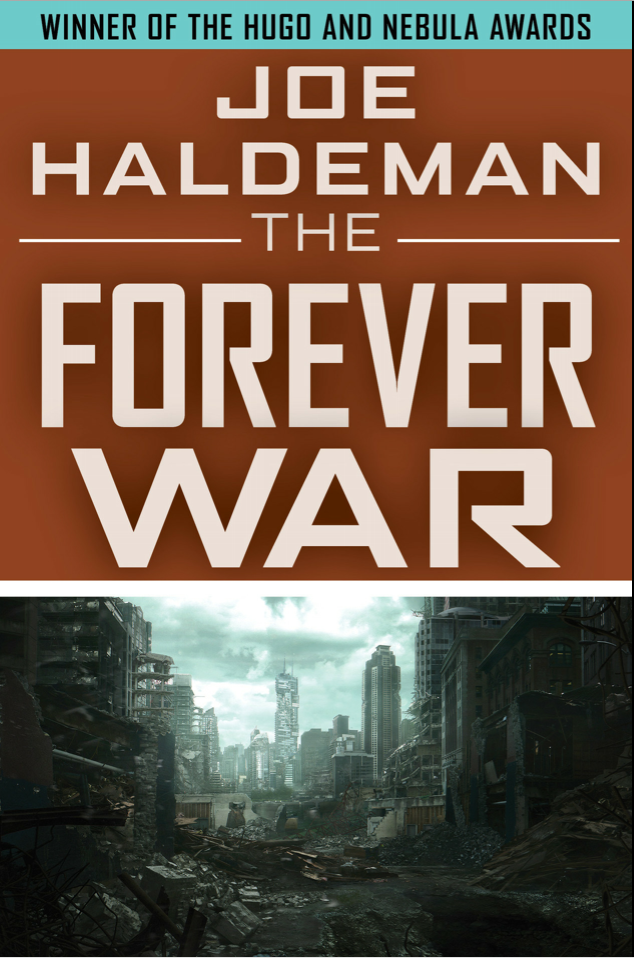 Why I chose this book
As customary with my blogs, I like to start out with why I chose a particular book. It's always interesting why people choose the books they read. Was it chosen because of the cover, author, book club, etc.?
In my case, there were two main reasons. The first reason was that I am making my best effort to read the books considered classics of Science Fiction. Regardless of the group or blog, you may be reading; if you ask for a book recommendation, someone will suggest The Forever War. Hence, I consider working through the classics as a sort of real-life science fiction masters degree.
The second reason, and probably most important, it looked like a book my Step Father might like. Since he reads mostly Military Fiction and Non-Fiction and I read Science Fiction, The Forever War seemed like a book that could bridge the genres and be of interest to us both. The hope was we would read it at the same time and have something interesting to talk about. It the time of writing this blog he is about 50% through the book, and we have had a couple of interesting conversations. In this regard, I'm calling this book a success.
What is it about?
The Forever War is a military science fiction novel through and through. It is not only a military sci-fi book though. The Forever War is a love story, a political thriller, a speculative sociology story, and a space opera. I read chapters which made me angry and made me sad. In end, I couldn't wipe the smile off my face.
The story follows William Mandella throughout his military career. Mandella was drafted into the military by the Elite Conscription Act of 1996. Essentially, this was a draft for smart soldiers. Everyone drafted had an IQ of over 150. Even though the soldiers are the best and the brightest they ended up as infantry. Infantry dropped off to attack an enemy base or protect a world orbiting a collapsar.
A collapsar, as described by the book, is a perfect sphere about three kilometers in radius. In real life a collapsar is the shortened word for collapsed star. According to wikipedia a collapsar can have three states, white dwarf, neutron start, and black hole. Interestingly, the book goes on to say "Relativity propped it up" meaning at the point of collapse time slowed for the collapsar as observed from regular space-time. Since this is a science fiction book it's fun to make the leap and interpret a collapsar as the first stage in the conversion of a star into a black hole.
The collapsars solve the problem of long distance faster than light travel. The issue remains, getting to the collapsar. Humanity has build ships which accelerate very close to light speed in order to travel from planet to collapsar and collapsar to collapsar. Unfortunately, relativity rears its ugly head every trip causing years to pass on earth while Mandella and his cohort are cruising to and from collapsars.
Relativity is a key component of The Forever War and one of the reasons its so brilliant. Haldeman uses this time dilation in a number of interesting ways. For instance, every new batch of troops could be from ten to hundreds of years in the future.
The antagonists of the story, the Taurans, are also not immune to Einstein's physics. Therefore each interaction between the Taurans and Humans are from different points in time. For example, imagine the humans decide to attack a Tauran planet. Humans get in their spaceship, speed up to near lightspeed, go through a collapsar, travel to another collapsar, go through, and then cruise to the Tauran planet. It only took the humans a relative two years to get there but 100 years could have gone by on the Tauran planet. Imagine how you could prepare if you knew your planet would be attacked in 100 years. The Forever War is filled with interesting interactions such as the described.
The review
Story – 5/5 stars
The story is brilliant. Quite possibly one of the best books I have ever read. Haldeman interweaves personal relationships, infantry battles, spaceship battles, effects of relativity, social issues, and politics in a way which makes them all interesting. For example, required sex for enlisted personnel. Sound weird? Read the book.
Characters – 5/5 stars
Remember I told you this was a love story. Our hero has a number of friends throughout the book but there is no one he loves more than Marygay Potter. There is one scene in the book where Mandella asks a very badly injured MaryGay "how do you feel" She was still crying. 'I'm … hurt.' If you don't tear up during that part of the book, you have a cold dead heart. There are a ton of other really great characters in the book however i'm already treading the line of spoilers as it is. Read the book.
Pace – 4/5 stars
There are portions of this book that are monotonous. Still, necessary. The story arc is more like a ramp. When Mandella is going through his training and few the first couple altercations with the Taurans, it feels a little long. I don't think it could be cut because the path leads to the very satisfying ending. It feels like Haldeman knew portions were getting long in the tooth because he jumps the story forward several times in a novella style.
Originality – 5/5 stars
The Forever War story is absolutely an original story. Anything I've read which even comes close was written much later. The use of time dilation makes this book a masterpiece. There isn't anything more to say.
Technology 4/5 stars
Technology is a tough category to score well in to be sure. For a story first published in 1972, I don't feel like the technology broke much new ground. The collapsars are a cool natural phenomenon. The stasis pods are very cool. The battle suits are fun. There isn't very much detail about the spaceship technology. I like the idea of the finger lasers. The thing to remember is the 70's there was an emerging Sci-Fi scene. Star Trek was on TV including the animated series starting in 1973. Doctor Who, Outer Limits, Johnny Quest and lost in space were all released in the '60s not to mention tons of Sci-fi books by very popular writers were available. That said, I believe Haldeman's use of technology was appropriate for the book. Quite frankly this is military science fiction, not "hard" science fiction. If you pay attention, there are small technology inventions throughout the book which blend in. All in all The Forever War is a perfect use of supporting technology.
Conclusion
Joe Halderman wrote a masterpiece with The Forever War. I can never pick a favorite book but if I did this would be a contender. If you are a fan of military Sci-fi this is a must read.
Get the book
There are several items to read in the Forever War series
Start with The Forever War https://amzn.to/2EPmf6W.
Then read MaryGay Potters story in Far Horizons https://amzn.to/2W6vWnt
Then continue on with Forever Free https://amzn.to/2WFyCN9
If you prefer audio there is a Forever war audiobook https://amzn.to/2WaGVMy

There is a third book that takes place in The Forever War universe although not with our beloved characters titles Forever Peace https://amzn.to/2Z5LY2X.
If you want to check out some Haldeman in
Comment below what you thought of the book or the review. I would love to chat!
You can find me on all social media as gregreviewsscifi. Thanks for reading!
Affiliates Disclaimers
**As an Amazon Associate I earn from qualifying purchases**
**When you click on links to various merchants on this site and make a purchase, this can result in this site earning a commission. Affiliate programs and affiliations include, but are not limited to, the eBay Partner Network**
Greg
The Review
Review Breakdown
Story

Characters

Pace

Originality

Technology