Disclosure: Some of the below are affiliate links, meaning, at no additional cost to you, I will make a commission if you click through and make a purchase.
Recently I have been reading books which were otherwise out of my comfort zone. The Wrong Stars by Tim Pratt is directly in my preferred genre, space opera. What makes this pick unusual for me is the Author. Usually, Pratt doesn't write science fiction. In the acknowledgments, he states that his agent "strongly encouraged" him to write in the genre. We should all say thanks to Pratts agent because the book is excellent.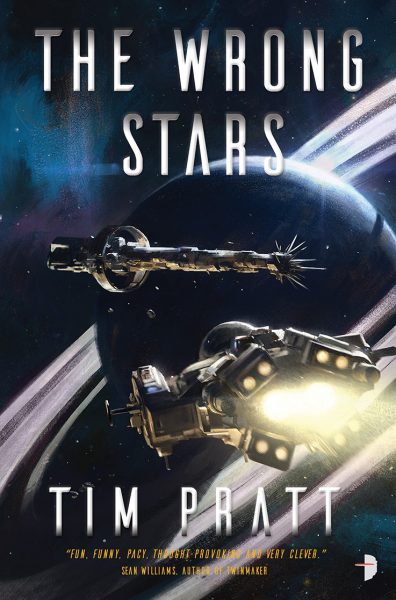 I passed over this book a few times just on the fact the past books were so different and frankly not interesting to me. I am not a fantasy fan. As an example of how much I dislike fantasy, I think Lord of the Rings sucked, books and movies. I was nervous that a writer able to write anything and call it magic could write about future tech and sell it as plausible. The book takes place 500 years from now, and technology has advanced but not by much. Keeping tech near-future was a safe bet for Pratt and works well in the book based on the situation humanity finds itself. There is tons of new tech later in the book, but it's tech the science fiction community would except without explanation, such as tractor beams and artificial gravity.
The protagonist in the book is a strong female character that identifies as a demisexual. I like the idea of showing social progress in Science Fiction although in this case, I think Callie is bi-sexual. There are many instances in the book where she is instantly attracted to another character which would be unusual for a demi. I normally leave out this type of discussion in my reviews however since Pratt decided to choose a fringe sexual preference I feel it played a part in the story.
The Wrong Stars is the first book in the Axiom series. Pratt says on his blog that he ha sold two other Axiom books to Angry Robot. That is good news for me because I plan to pick them up. With self-published writers, you never know if there will ever be a book 2.
Helpful Links
You can buy The Wrong Stars on Amazon: https://amzn.to/2JUTFFw
For the Second Book The Dreaming Stars: https://amzn.to/2JTbQv6
You can find Tim Pratt as his blog http://www.timpratt.org
If you have read the book or plan to leave me a comment below.
Greg
Affiliates Disclaimers
**As an Amazon Associate I earn from qualifying purchases**
**When you click on links to various merchants on this site and make a purchase, this can result in this site earning a commission. Affiliate programs and affiliations include, but are not limited to, the eBay Partner Network**
The Review
PROS
Character Development, Transition of Technologies
Review Breakdown
Story

Characters

Pace

Technology

Originality